Inspired by the recent Guardian post about Daniel Hahn's top 10 underrated or forgotten children's classics I thought I would make a blog post about some of my favourite picture books as well. I've tried to mix up some of my old favourites with some newer books. It was hard to not just jump back to books that I enjoyed when I was younger, children's books (whether that's picture books or not) still give me a warm feeling in my chest – like you're cuddling up to the fire on a rainy winter afternoon. And that's doubley the case for the books I loved when I was a child.
We're Going On A Bear Hunt by Michael Rosen and Illustrated by Helen Oxenbury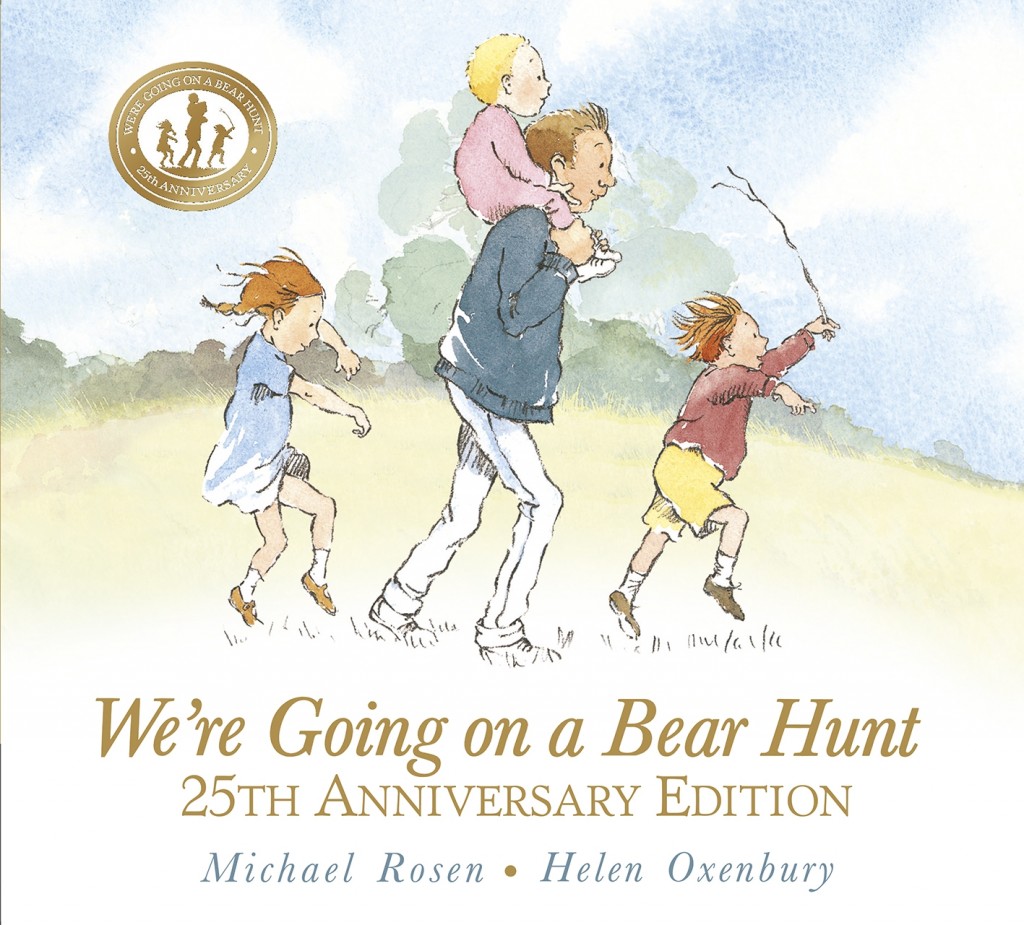 So we've started off with an absolute classic. I think you'll be hard pressed to find anyone who wouldn't be able to sing along to We're Going On A Bear Hunt (We're going to catch a big one… we're not scared!). The illustrations are gorgeous and I think capture the spirit and joy of the story.
And in case you haven't seen it, I think it's very important you watch this video of Michael Rosen reading the book! It was recorded by Walker Books as part of the 25th Anniversary celebrations:
This Book Just Ate My Dog! by Richard Bryne
This book came out relatively recently but one of the reasons that I loved, not only that the illustrations were vibrant and colourful, but it also uses the form of the page as part of the narrative and part of the punchline. I know what you're thinking; "Why Alex, surely the page is always part of the narrative!?" Well I say to you that not like this!
As the characters walk across the break in the page where the spine sits, that little dip eats them! It's a wonderful use of the book itself to tell the story (again, sounds obvious I know) and also adds in later a great interactive bit too!
Dinosaurs and All That Rubbish by Michael Foreman 
This one did appear in the post by Daniel Hahn, but I loved this as a child as well (which is not just because it has lots of dinosaurs in the book). It's a wonderfully illustrated book about dinosaurs coming back after everyone else has left and having fun in the interim. With a relevant message about all this rubbish we insist on leaving everywhere it's a great book for all ages with a lesson to teach.
Dirty Beasts by Roald Dahl and illustrated by Quentin Blake
I don't think that any list about favourite books would be complete without Roald Dahl, especially when we include pictures and that means we have Quentin Blake to contend with as well. I picked Dirty Beasts because it's got loads of poems every single one is fantastic, full to the brim with the character, charm, and irreverence that can only be delivered by Roald Dahl and brought to life so beautifully by Quentin Blake.
This Is Not My Hat by Jon Klassen
A sort-of-sequel to I Want My Hat Back, it's a story about a fish who has a hat that isn't theirs. Jon Klassen is a multiple award winning author and with this book you can see why. It's a quirky story, the art style is bold, and it's very funny. Both of the Hat books are great reads but I think that This Is Not My Hat squeezes out in front as my favourite.
So there you have it! Some of my favourite picture books! I hope that you check them out because they're all brilliant and well, well worth the time!
Some of My Favourite Picture Books